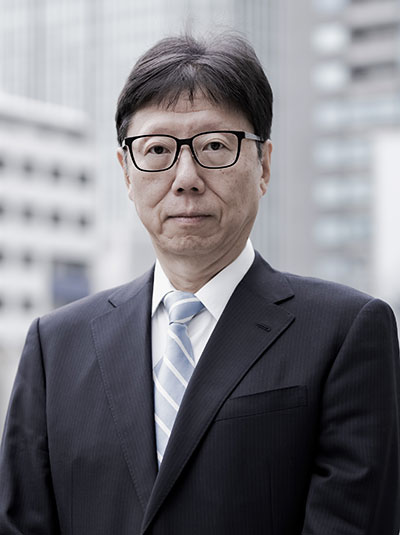 Tatsuya Masuda
Representative Patent Attorney / General Manager of Domestic Department
Register No.09129
Main Fields of Experience
Metals, molding techniques for use with metals, metalworking technology, sintering technology, PIM, plating technology, other chemical treatment, thin-film technology, semiconductor manufacturing processes, semiconductor mounting technology, solar batteries, fuel cells, materials for substrates, automobiles (HV/EV/PHV/FCV), industrial machines, construction machines, robots, electric and electronic devices (motors, various sensors, oscillators, etc.), computer-related devices (2D/3D printers, smartphones, tablet terminals, etc.), watches, copying machines, cameras, endoscopes, display devices (liquid crystal devices, organic EL devices, etc.), projectors, wearable devices, other optical devices, plasma processing technology, image processing technology, optical waveguides, materials for medical use, medical instruments, artificial internal organs, artificial bones, blood derivatives, foods, magnetic components, magnets and magnet related devices, resin materials and molding technology, battery materials, ceramics, paper manufacturing technology, paper recycling technology, adhesive, pressure-sensitive adhesive and related devices, software, IT- related technology, and business model patents.
Trademarks, designs, copyright, and unfair competition.
Activities
Support for small companies, advices on establishment and management of IP department of company, education relating to IP for engineers, findings of inventions, supports for activities of academia-industry cooperation, environmental protection, and technology proposals for global warming prevention.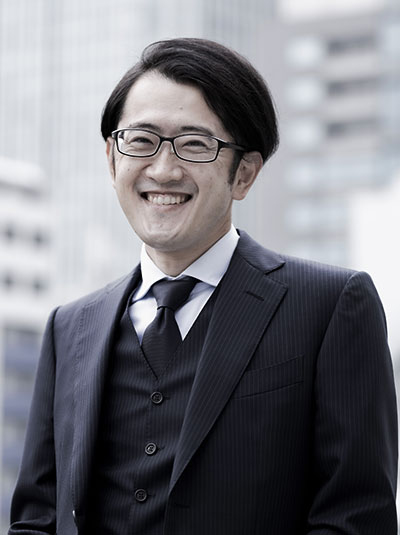 Kengo Ootsubo
Partner Patent Attorney
Register No.14488
Main Fields of Experience
General developments related to the fields of chemistry, polymer materials, development and fixing devices, semiconductor processing technology, image display devices ( liquid crystal devices, ETC.), projector, crystal devices, touch sensors, polishing machines, ink jet technology, plasma technology, robots, wearable devices, pointing devices, optical lenses, medical instruments (endoscope, etc.), seismic machines, adhesive sheets, business models, and refrigerators.
Designs, trademarks, copy right, unfair competition, and litigation cases thereof including expert opinions.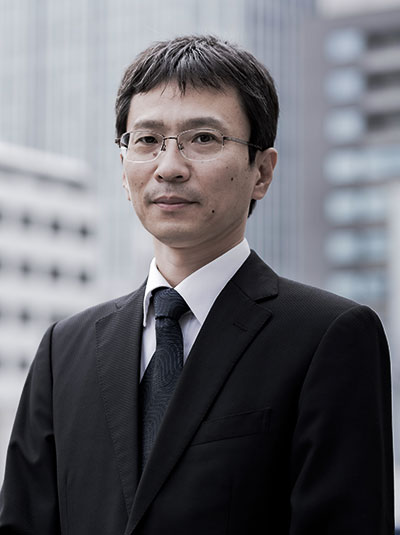 Yasuyuki Fujitani
Partner Patent Attorney
Register No.17342
Main Fields of Experience
General developments related to the fields of chemistry and biology, inorganic materials (metal materials, ceramics, semiconductor materials, dielectric materials, opt-catalysts, carbon materials, etc.), organic materials (polymer and monomer such as resin materials including elastomer, cellulose, silicone), biopolymers (sugar chains, etc.), bio-chemicals, drugs and medicines (herbal medicines, etc.), quasi-drug, materials for medical use, bio-materials, artificial bones, implants, medical instruments (endoscopes, stent, medicine dispensing apparatus, etc.), clinic and health related products, medicine formation technology, cell culture, functional gel materials, allergen detection technology, artificial muscles, health foods, inks, paints, coloring materials, phosphors, heat conductors, various powder materials (toner, pigment, ceramics particles, metal particles, fine resin particles, composite fine particles, etc.), various dispersants, magnetic materials, magnets, adhesive, pressure-sensitive adhesive, special papers, heat storage materials, energy-related technology, resource recovery technology, recycling, environment-related technology such as waste treatment, water treatment, refining technology, fermentation technology, hygiene-related technology, color development technology, chemical synthesis, derivative synthesis, various chemical analysis, various manufacturing processes, metal processing technology, pulverization technology, granulation technology, sintering technology, surface finishing technology (various plating technology, thin-film technology, plasma treatment, etc.), semiconductor mounting technology, various printing technologies (ink-jet related technology, screen printing, etc.), papermaking technology, recycle technology for papers, thin film formation apparatus, plasma apparatus, various printers (ink-jet printer, laser printer (development and fixation), 3-D printer), display devices (crystal display device, color filter, etc.), inks, cushioning materials, various sensors, printed circuit boards, batteries (lithium-ion battery, solar battery, etc.), watches, ornamentals, optical parts (micro lens, etc.), thermal-electro conversion elements, refrigerators, wire-less electric supply, exterior ornamental parts, interior ornamental parts, packages, automobile related technologies, clothes, and stationeries.
---